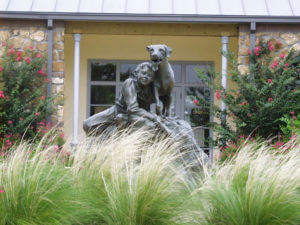 Mason has a deep-seated love of the literary. Long before radio, television and computers, Mason residents enjoyed passing time by reading. They also knew that you needed a place to keep all those books.
The library also offers Internet access. This progressive step opens up a world of possibilities to young and old alike, and epitomizes the willingness of Mason residents to explore new avenues of learning. Visit them on the web at http://www.masontexaslibrary.com . It's updated often with news about what's happening at the library.
The Mason County M. Beven Eckert Memorial Library, located just south of the square, continues our tradition of working together to promote learning. Though a new building, care was taken to design the structure so that it seems right at place within the historical district.
Rotating exhibitions include information on The Eckert James River Bat Cave, early Mason families and history, and works of art by local artists. In addition to rotating exhibits of art, permanent pieces in the Library's art collection include the large marquetry panel entitled Kindred Destinies that was created and donated by local artists Spider Johnson and Lora Hunt. This panel, hanging in the main library, is made up of more than 5,000 separate pieces of wood, precisely cut and applied to create the image, and required over 350 hours of painstaking craftsmanship. The beveled glass entry doors for the Main Library were donated by Walt Germer. A large needlework panel depicting local Texas wildflowers was created by Myrtle Wade and now hangs in the Stribling Room.
During the summer, kids can take advantage of the Read To Swim program, sponsored by the Mason Bank. Each child that reads for one hour in the library earns a free pass to the Mason swimming pool just next door. Interested kids should inquire at the front desk of the library to take advantage of this wonderful program.
Those interested in taking a direct hand in the support of the Library should consider joining Friends of the Library.
Story Time for the kids is held every Friday at 10:00 a.m. during the school year.
M. Beven Eckert Memorial Library
410 Post Hill
Mason, TX 76856
Phone:  325-347-5446
| | |
| --- | --- |
| Monday | 10am – 6pm |
| Tuesday | 10am – 6pm |
| Wednesday | 10am – 6pm |
| Thursday | 10am – 6pm |
| Friday | 10am – 6pm |
| Saturday | Closed |
| Sunday | Closed |