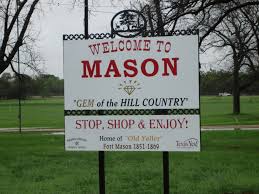 Whether you plan on a round of golf at Comanche Creek Golf Course, attending a football or baseball game, or going to the rodeo, you'll eventually end up at Fort Mason Park. Located only minutes south of downtown just off Highway 87, this public park offers something for everyone.
The Community Building, home to dances, dinners and meetings of all kinds, is located here, as is our famous, open-air dance area. You'll find playground equipment for the kids, and public restroom facilities.
If you're traveling through with your own sleeping accommodations (an RV), you'll find tree-shaded facilities just on the edge of the golf course. The low rates and pleasant surroundings tend to keep this area booked, so you might want to call ahead to check on availability. Just call (325) 347-2064 for reservations.
The people of Mason, who worked together to make this park so beautiful and successful, are currently working to put together a hiking trail along Comanche Creek on the north edge of the park. Watch this site for updates on that project.
Be sure to check the Calendar of Events page for information on activities planned for the upcoming months.