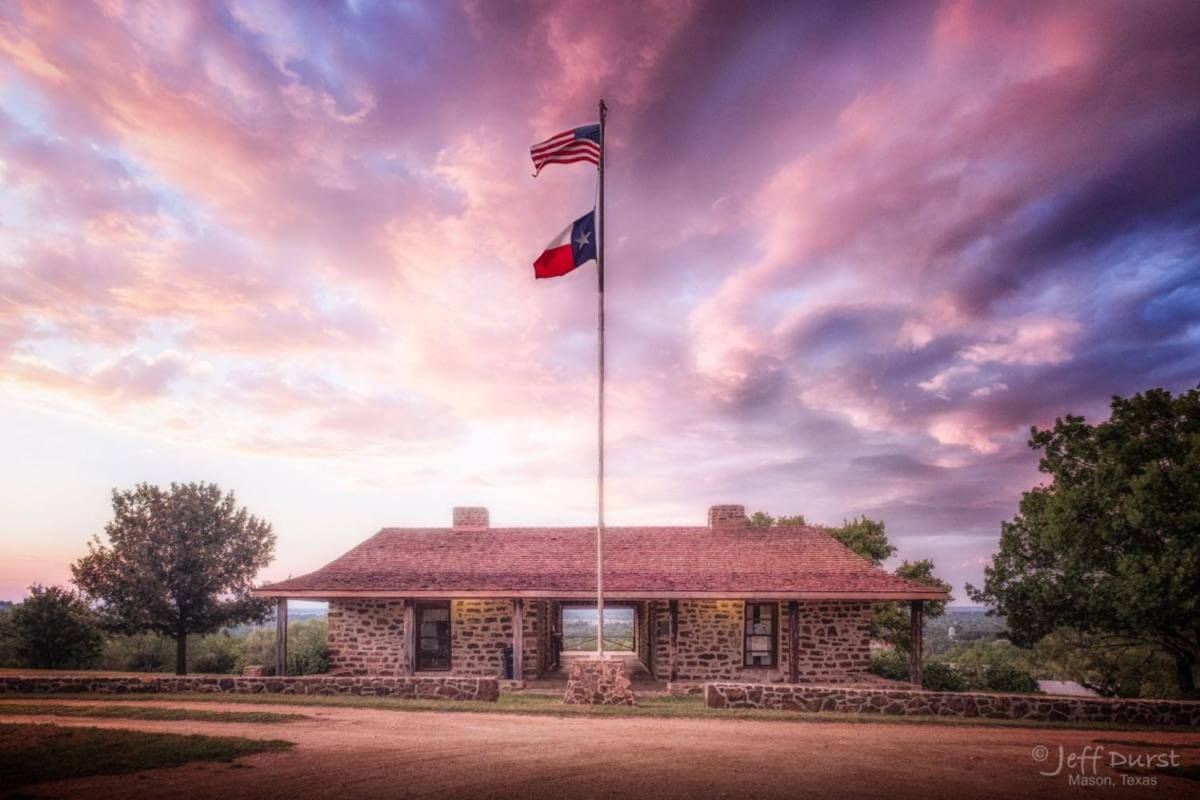 Fort Mason was established July 6, 1851 in what later became Mason County. It was named in honor of Lieutenant George Thomson Mason, United States Army Second Lieutenant killed in the Thornton Affair during the Mexican-American War near Brownsville, April 25, 1846. At various times from 1856 to 1861 this was the home fort for Albert Sidney Johnston, George H. Thomas, Earl Van Dorn and Robert E. Lee.   The fort was abandoned by the military in the 1870s, and restored by a group of local citizens in 1975.
Fort Mason, Texas was established by the United States War Department as a front-line defense against Kiowa, Lipan Apache and Comanche on July 6, 1851. The site on Post Oak Hill near Comanche and Centennial creeks was chosen by Lieutenant Colonel William J. Hardee and surveyor Richard Austin Howard.  Brevet Major Hamilton W. Merrill,  along with companies A and B of the Second Dragoons, established the fort itself. Originally part of  Gillespie County, Mason County was named for the fort when it was established in 1858. Comanche chief Katemcy at one point turned over two white captives aged 11 and 12, and again bringing them back when the captives ran away from the fort to reunite with the Comanches.
The fort was closed in January 1854, after which horse theft by native Americans was reported and pursued by the military.  It was reoccupied in 1856 by Company A, First Dragoons, from March to May and was occupied by companies B, C, D, G, H, and I of the Second United States Calvary from January 14, 1856, with Col. Albert Sidney Johnston in command. Among those stationed at Fort Mason before the Civil War, George H. Thomas  and Phillip St. George Cooke  became generals for the Union Army , while those who became generals for the Confederate States Army included Earl Van Dorn, Fitzhugh Lee, E. Kiby Smith, Robert E. Lee, John Bell Hood and William J. Hardee.
Fort Mason was Robert E. Lee's last command with the United States Army.  In a letter home on January 23, 1861, Lee wrote:
"I can anticipate no greater calamity for the country than a dissolution of the union. Secession is nothing but revolution."
Fort Mason was evacuated by Federal troops, March 29, 1861 and reoccupied after the Civil War until 1869.
~Photo Credit: Jeff Durst
click here to get your Trooper Passport
Fort Mason is located at 204 W. Spruce Street, Mason, Texas 76856, it is open from 8:00 AM – 10:00 PM.
It is view at your own pace with plexiglass on the windows and doors, nice overlook of the City of Mason.