The history of a community helps shape its future, and gives it a strong foundation upon which to grow. Mason's history is rich, colorful, and sometimes, it's downright intriguing. You really need to better understand where Mason has been in order to fully comprehend where we're going and the Mason County Historical Museum is a great way to start.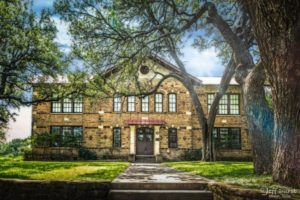 Mason County Museum: located @ 505 Moody Street
PHONE: 325-347-5218
Hours:  Thursday – Saturday, 10:00 am to 4:00 pm.
http://www.masonchc.org/www.masonchc.org/home.html
If you look just southwest of the town square, sitting across the creek on a slight hill, you'll see a beautiful old two-story rock building. Around here, being practical about naming things, we call it the Old Historical Building. This architectural delight is home to the Mason County Historical Museum and to various government offices. Park on the tree-lined east side (overlooking the city pool and the library) and come spend some time looking back at the past.
There are geological artifacts as well as human, and you can spend a great deal of time just admiring the minutiae which has been collected. Don't miss the mastodon tusk (as if you could), and look closely at the detail work on some of the old brass buttons found around the site of the fort. Have fun, and treat yourself to a stroll around the grounds when you're done with your visit.
Just to the north of the building, you'll see an old baseball field with stone bleachers. This is Mason's newest addition to our public spaces, Heritage Park. It hosted its inaugural concert event with a benefit for Habitat For Humanity and the Odeon Theater. Since then, there's been no slowing down.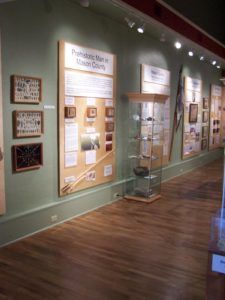 Mason Square Museum: Located @ 130 Ft. McKavitt St ( North Side of the Square)
130 Fort McKavitt (mail = P.O. Box 203)
Mason, Texas 76856
Phone: 325-347-0507
Email:  info@masonsquaremuseum.org
Hours:  Thursday – Saturday, 10:00 am to 4:00 pm.
Back down on the town square, Mason's newest museum addition is aptly named, the Mason Square Museum. It is a more compact version of the Mason County Historical Museum, but with its own unique exhibits (including the largest blue topaz found in the United States).
The Mason Square Museum opened its doors in 2007 with artifacts generously donated by some of Mason County's oldest families. These artifacts include pistols, rifles, family Bibles, portraits, arrowheads, and other memorabilia.
The Museum is arranged in a chronological timeline from the earliest geology of Mason County to ranching and banking. Children will love the Mammoth tusk dating back 25,000 years ago. Panels show Prehistoric Man from 11,500 B.C.to the Native Americans and German Immigrants of the 1800's. This leads into the founding of Fort Mason which became a training ground for many Generals, including Robert E. Lee. Many artifacts from the Fort are on display, including pottery, coins, uniform buttons, etc. In the years following the abandonment of the Fort, Mason County lost several children to Indian raids. Some of these captives were later rescued and returned to their families.
Mason County also had their own internal skirmishes and feuds which led to the Mason County War, also known as the Hoo Doo War.
In 1904, a large blue "rock" was found, weighing 6,480 carats (almost three pounds). The rancher used it as a doorstop until it was identified as a blue topaz. This topaz is on loan from the Smithsonian Institute and is the State Gem.
The Museum is located on the north side of the square across from the courthouse at 103 Ft. McKavitt and is open Thursday through Saturday, year round, 10:00 a.m. to 4:00 p.m.
Tours outside of schedule can be arranged.  Call 325-347-5151 or 325-347-1207.
Find out more about the history of Mason by visiting the Mason County Historical Commission.